ListView is an important component of android app development so understanding using ListViews is a compulsory skill. In this tutorial, we will learn how to use Simple ListView ArrayAdapter to show items. ListViews are used to display multiple items from arrays. ArrayAdapter works as a bridge between data array and ListViews.
Final Output of the app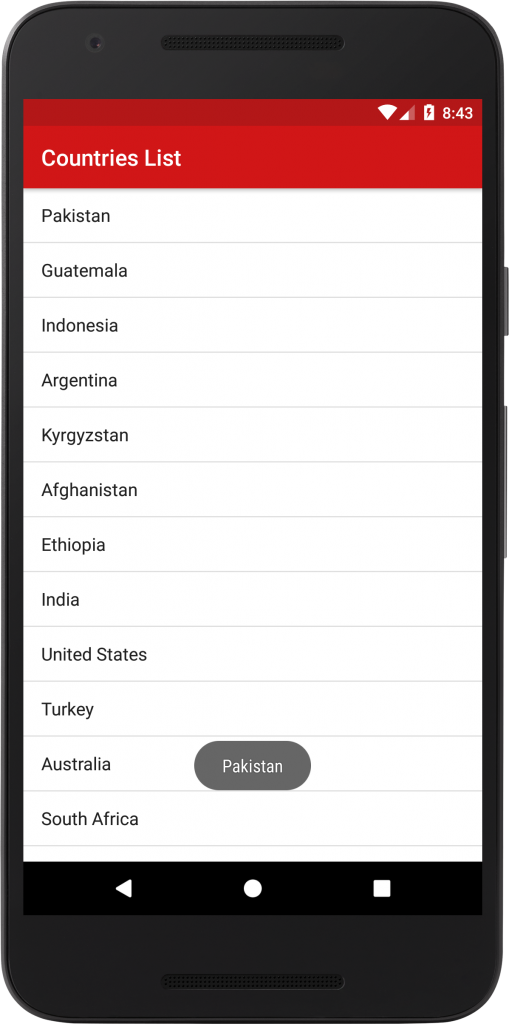 DEMO
1. App name, Package name, and Project location.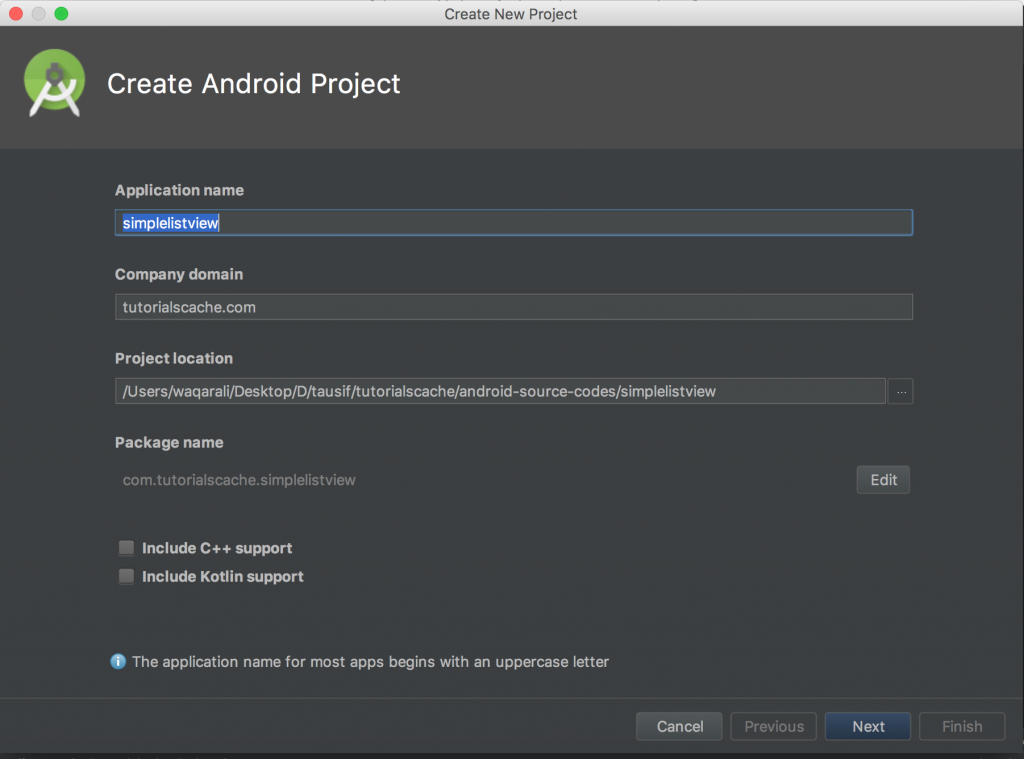 2. Choosing SDK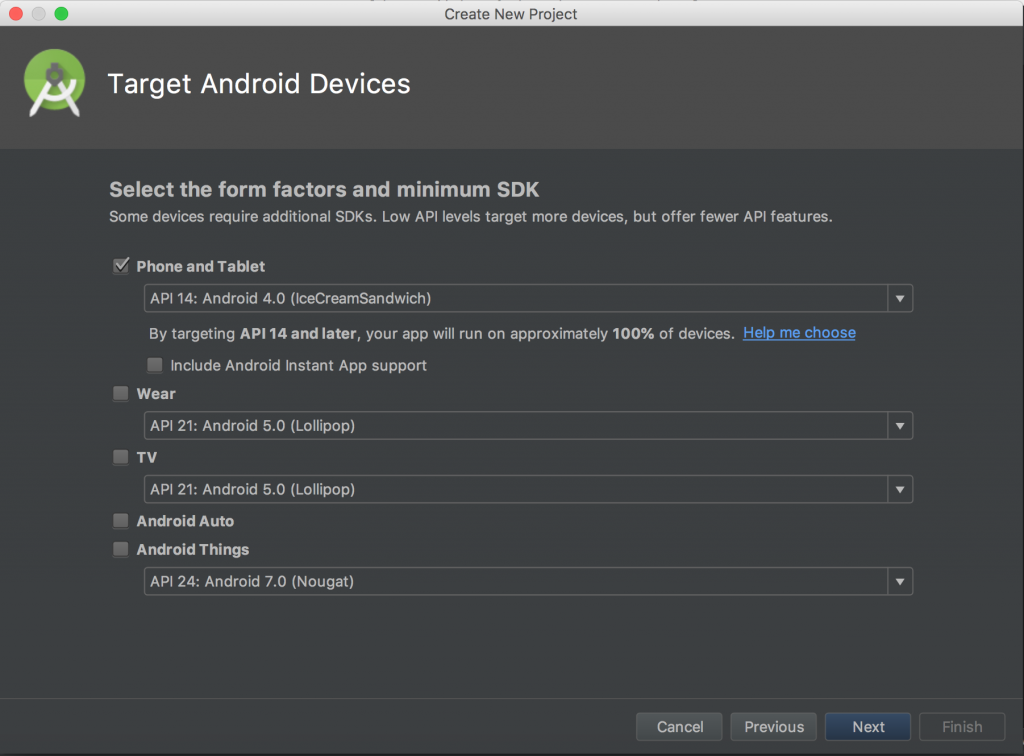 3. Choose Empty Activity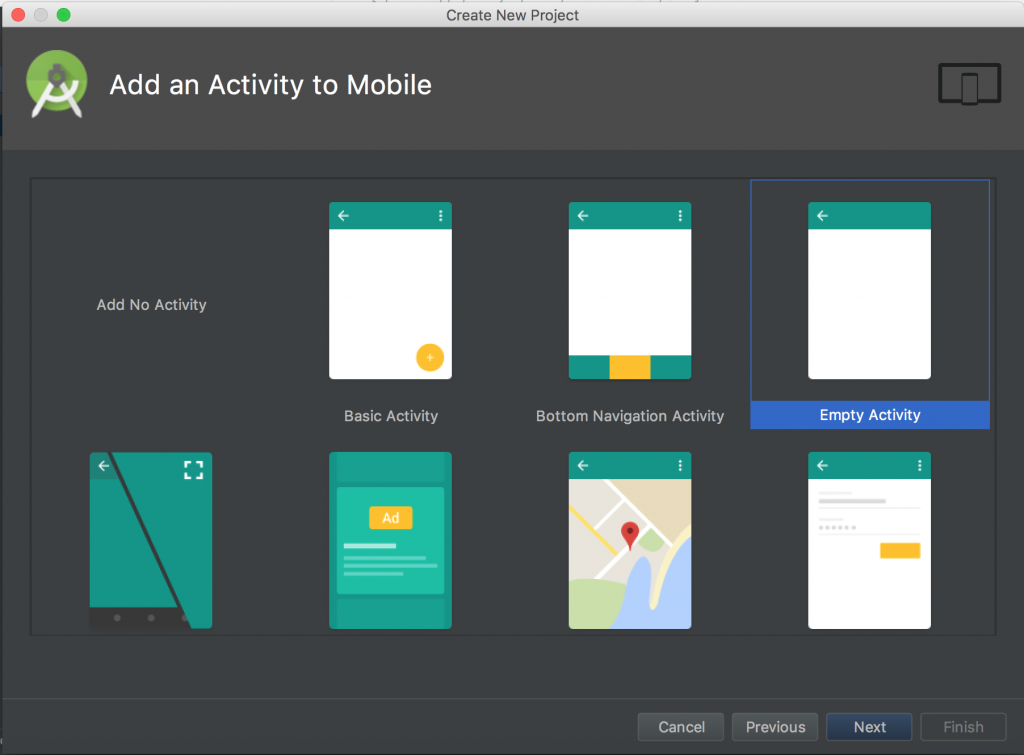 4. Adding code into activity_main.xml
<?xml version="1.0" encoding="utf-8"?>
<LinearLayout
    xmlns:android="http://schemas.android.com/apk/res/android"
    xmlns:app="http://schemas.android.com/apk/res-auto"
    xmlns:tools="http://schemas.android.com/tools"
    android:layout_width="match_parent"
    android:layout_height="match_parent"
    tools:context="com.tutorialscache.simplelistview.MainActivity">
    <ListView
        android:id="@+id/listView"
        android:background="#ffffff"
        android:scrollbars="none"
        android:layout_width="match_parent"
        android:layout_height="match_parent"/>
</LinearLayout>
4. MainActivity.java
package com.tutorialscache.simplelistview;
import android.support.v7.app.AppCompatActivity;
import android.os.Bundle;
import android.view.View;
import android.widget.AdapterView;
import android.widget.ArrayAdapter;
import android.widget.ListView;
import android.widget.Toast;
public class MainActivity extends AppCompatActivity {
    //array of strings
    String[] countryNames = {"Pakistan","Guatemala","Indonesia","Argentina","Kyrgyzstan","Afghanistan","Ethiopia","India",
                            "United States","Turkey","Australia","South Africa","Egypt"};
    ListView listView;
    ArrayAdapter<String> arrayAdapter;
    @Override
    protected void onCreate(Bundle savedInstanceState) {
        super.onCreate(savedInstanceState);
        setContentView(R.layout.activity_main);
        //connecting listview from activity_main.xml layout
        listView = findViewById(R.id.listView);
        //initializing adapter
        arrayAdapter = new ArrayAdapter<>(getApplicationContext(),android.R.layout.simple_list_item_1,countryNames);
        //setting ArrayAdapter on listView
        listView.setAdapter(arrayAdapter);
        //making listView clickable
        listView.setOnItemClickListener(new AdapterView.OnItemClickListener() {
            @Override
            public void onItemClick(AdapterView<?> adapterView, View view, int position, long l) {
                String countryName = countryNames[position];
                //showing clicked item on toast
                Toast.makeText(getApplicationContext(),countryName,Toast.LENGTH_LONG).show();
            }
        });
    }
}