In freelancing, it is difficult to get your first clients. It doesn't matter which freelancing platform you are using to get the freelancing jobs but still, you have to two faces the problem of getting the first few freelancing clients.
There are a variety of reasons for this, but the most common is that clients do not know who you are, they do not know what you can do, or they think you are too expensive, and they do not trust you.
Therefore new freelancers look for ways to get freelance clients to take a Good startup in the freelancing.
In order to overcome these challenges, I want to share some working methods to get the first freelancing jobs.
So let's discuss these methods one by one.
Start it With Your Connections
The first to gain freelancing jobs is to use your personal and professional networks. Let your friends, family, and colleagues know that you have started freelancing and now you are looking for freelance work.
Tell them about your service and the value you can provide. Also mention how you are apart from the other freelancers. Maybe they can hire you or They may have connections to people who are looking for freelancers so they can promote you. In most cases thus you can get your very first client.
Use Networking Platforms
The second way to get clients is to market yourself through networking platforms. The best platform to network yourself is LinkedIn. LinkedIn is already changing the world of entrepreneurs and workers.
Thousands of freelancers are doing full-time jobs only using LinkedIn. And it is the same thing that you can do. Just make a business profile, be active on it, and get involved in the communities of professionals who share your interests, grow your connection, and reach out to people in your field. The more people who know about you and what you do, the more likely you are to attract new clients.
Offer Free Freelance Services
All freelancers have worked for free. It looks free but actually, it is not because it will pay you later. If any of the methods are not working to get the first freelancing work then try this remedy I can bet, you will start to get clients. Create a profile on Facebook, add your skill and portfolio, and join all the online groups where Legit freelance jobs are posted. Do bid on the relevant jobs or create a post like this.
Hey, I am a copywriter, here are all the niches in which I can write content. I am willing to build a portfolio so I want to work free for the first three clients. Your appreciation, testimonial, and recommendation will be my reward.
This method can ease the path of freelancing by giving you experience, positive reviews, free promotions, and future clients.
Join The Online Boards

Online boards and classified websites can help to get freelance work. These websites typically have a section for freelancers, where you can search for opportunities that match your skills and experience. If you start to use these sites properly they can be a great source of regular leads.
I know many freelancers who regularly get clients and freelance work from OLX-type websites. Competition over this kind of site is slow so smoothly you can benefit from this point. Make an active presence on these sites, find out the best tasks then market your service greatly.
Attend Relevant Events
Meetups and events are the same as the networking platform. It brings people together who are interested in a particular category. Events allow the people to connect, engage and learn many things from each other.
Have you ever thought about attending relevant offline and online events, podcasts, and meetups to get freelance leads?
No?
Then start thinking from now, because by using this creative way you can attain two clients from a single event.
So the thing is, how you can utilize this way, you have the internet just search for the sites and collect the data of the Events, Meetup, and Podcasts in your country area and category. Generally, these platforms show the number of people who are going to attend a particular event. You can check their profile, their field, etc. Now it is up to you how you can get value from them.
Maybe for the first time, you feel that why you are here and are a little bit confused about engaging with the people but as you will start to communicate and market yourself you will definitely enjoy this method because It has the ability to teach you multiple things.
Recommended: How to Craft a Freelancer Portfolio.
Reach Out to Local Businesses
Have you ever heard about the news of programmers or hackers who identified bugs and Viruses on Google and Google products and Google rewarded them with thousands of dollars?
No? Google has a specific page where they mentioned the reward price for identifying the special kinds of drawbacks on Google and Google products.
But why we are talking about it, check the screenshot of this email.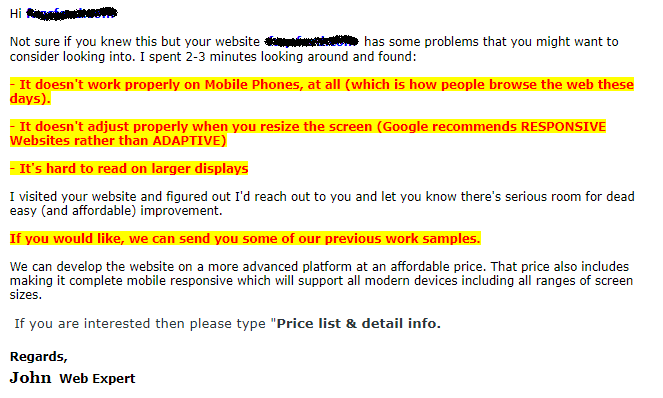 This person and other similar persons have approached me twice a week by using my professional email. They try their best to market their services. Actually, it is a very effective way that anybody can use to offer their services to appropriate companies and local businesses.
People don't know what kind of talent you have and what type of service you offer but you know what you can provide so why are you not reaching out to the people who can hire you. It is the first trick to approaching local business but if you are creative and curious so you can explore some more working and interesting tricks to find your first clients and give a kick to your freelance career.
Remote Freelancing Jobs Opportunities
The Internet is full of opportunities for users who know how to use the internet to find out the required results. At this present time, even a local company has a website and most of the website has a page where they posted jobs.
Just you have to search wisely and enlist the relevant companies' contact details and requirements who are offering and can offer jobs.
After that just type a catchy email if you have no idea how to write a good email so multiple templates are available on the internet just copy them, edit them, make them more creative and send them. Finally, wait for the reply. Be positive and keep learning. One day you will be hired by a well-reputed global company.
Referral and Commission Based Freelance Jobs
You have a skill and an amazing portfolio to represent but the lack of freelance work is the main problem. Relatable? In this situation, you can begin a referral commission-based system with your existing connection, previous clients, family, and friends.
You can reach out to your freelancer's fellows and ask them to outsource their work with you or you will do the same with them. These interesting ticks can open various doors for new clients to access you.
Last Words For The Ways To Find Freelancing Jobs
The debate on the ways to gain freelance clients is endless but I am ending here with all the methods that I personally use and like to share with the community. I hope you have enjoyed this article and are gonna benefit from these ways to grab your first freelancing jobs.